Hero V3™ - Ultimate Handheld Automatic Dish Scrubber
Regular price $145.99 $95.99 USD 34% OFF
Grab your Discounted Hero V3™ - Ultimate Handheld Automatic Dish Scrubber while the store LAUNCH DISCOUNT is on. Once we reach 300-unit sales, we will be increasing the price back up to $145.99. This is absolutely a great gift!
ORDER NOW because these are FLYING off shelves! Limit 3 per customer! 
No dishwasher, no problem! This genius invention will save you a fraction or your time in washing dirty dishes.
Introducing, the Hero V3™ - Ultimate Handheld Automatic Dish Scrubber – a revolutionary handheld dish washing gadget that takes any plate or bowl and automatically spins it around and scrubs at the same time! It may look like a robotic alien but you will surely be amazed once you get to use it. To use the unique Handheld Automatic Dish Scrubber, simply lock in a plate or bowl and pull the trigger. It will spin the dish briskly around while the scrubber grinds itself around the dish while it spins. While doing this under soapy water, it'll clean the dish in a second or two and you can move onto the next.
Features:
This Handheld Automatic Dish Scrubberuses a DC motor and features an intelligent program control

Powered by an internal rechargeable lithium-ion battery within a 1500mAh capacity

The whole body is water-resistant and can be washed with reassuring water

Can work up to 40minutes straight before having to be charged again

It's adaptable to any standard sized plate no matter if it's a larger dinner or small appetizer plate.
The Hero V3™ - Ultimate Handheld Automatic Dish Scrubberdoes not only work on plates and bowls, but also on silverware. The trick is the two grappling arms that squeeze in when you pull the trigger to lock the dish in place while it gets scrubbed.  It runs via built in li-ion battery but you can also plug it into a wall outlet for continuous use.
Mommies out there! This is the answer to our manicured and can't ruin polished nails! Say goodbye to hand washing and get your own Hero V3™ - Ultimate Handheld Automatic Dish Scrubber, NOW!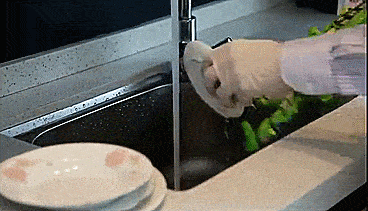 OUR 5 POINT CUSTOMER PROMISE
1-30 Day Money Back Guarantee
2-Tracking number for every order
3-Safe Payments via Stripe and Paypal
4-Real People on our 24/7 customer support
5-FREE SHIPPING WORLDWIDE
CLICK THE "ADD TO CART" BUTTON TO SECURE YOURS!
FREE SHIPPING WORLDWIDE
We process orders between Monday and Friday. Orders will be processed within 2 business days of ordering and shipped out the next day after the processing day. Please note that we don't ship on weekends.
The approximate shipping time accords to each country:
United Kingdom, United States, Canada, Australia: You can expect your package to arrive in 10-15 working day after the parcel has been shipped out.
Others: 15-20 working days after the parcel has been shipped out.
Free Shipping Worldwide for all orders.
Please contact us at: info@reluxshop.com. Please allow 12-24 hours for our staff to reply to you. We go through every inquiry very carefully to provide you with most accurate information.
Guaranteed Safe Checkout